The Jujitsu Gi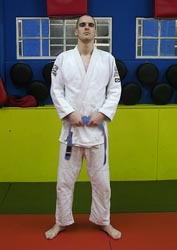 When training in Jujitsu, students traditionally wear a standard martial arts kimono, often referred to as a 'gi'.
This gi consists of a jacket and trousers. When wearing the jacket, the right-hand side lapel should be placed underneath the left-hand side as shown, and the trousers should be loosely fitted to eliminate the possibility of any restrictions. Gi jackets often have additional tassels on the inside, helping to further secure it in place.
Brazilian Jiu-Jitsu gis differ slightly in that they are designed to be more robust. A stronger fabric and double stitching are utilised to withstand the sharp pulls, grabs and grips which occur during a Brazilian Jiu-Jitsu match. You will not find supporting tassels on many Jiu-Jitsu gis, as many participants will often make use of their loose clothing as a weapon during combat.